Ajay Mehta From Modern Family, GI Joe and the Fiber One Commercials
The man with the best voice on the planet joins Rebecca and Mike for a hysterical night of fielding ridiculous questions from the chat room. Ajay shares with our audiences the nuances of making a commercial for Fiber One in a real grocery store, what it's like to work with children and pets, how much fun his co-stars were on set and the non-stop comedy that goes into all these crazy ads you see on TV. Ajay confirms that there is always an awesome story behind every detail. He also talks about the chance to work with the hilarious cast of the Emmy award winning "Modern Family" and what it was like playing a real life character on HBO's award winning "Too Big to Fail". Rebecca has a major brain fart and forgets what is coming up next and Mike saves her from live show catastrophe. Alas anytime Ajay speaks with his lovely voice it just seems to make everything alright in the world of live internet streaming television which we somehow convinced Ajay to partake in!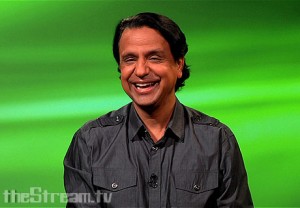 Commercial Break Episodes
You May Also Like...