Constantine Teams Up with Team Arrow
---
Arrow's fourth season is off to a dynamic start! Along with all the action there has been a bevy of new characters full of rich history behind them. This upcoming week we can expect to be introduced to 'Constantine' who had his own show on NBC. Now popping up on 'Arrow' this season, Constantine will be faced with Sara's re-animated body and the consequences of life after death once again. While fans of Constantine might be disappointed his show has been cancelled you can rejoice at his appearance in 'Arrow'. With a richer supernatural/meta human presence this season, 'Arrow' has been setting us viewers up for an action and magic packed season.
Going off of the 'New Earth' narrative in the Comics; Constantine is an occult detective from Liverpool, England. His main nemesis in the comics is Swamp Thing who goes missing and re-appears during the 'Brightest Day' arc. Here are some fun facts about Constantine that we may or may not be treated to see during this season of 'Arrow':
1. In the comics John Constantine is a magician who rarely uses his powers and only falls back on them as a last result. (Does that mean we might be treated to more magic this episode aside from bringing Sara' soul back? Maybe.)
2. Powers:
– Divination
– Demon Summoning
– Curses
– Spirit wand creation
– Golemancy
– Necromancy
– Illusion Casting
– Mind Control
– Synchronicity Wave Travel – (Uhh lets break that term down): The instinctual ability to be in the right place at the right time. This ability allows John to reshape the battlefield to his advantage.
While there are other versions of John Constantine out there, with the CW gaining the reigns to this character it will be a lot of fun to see where it leads the narrative!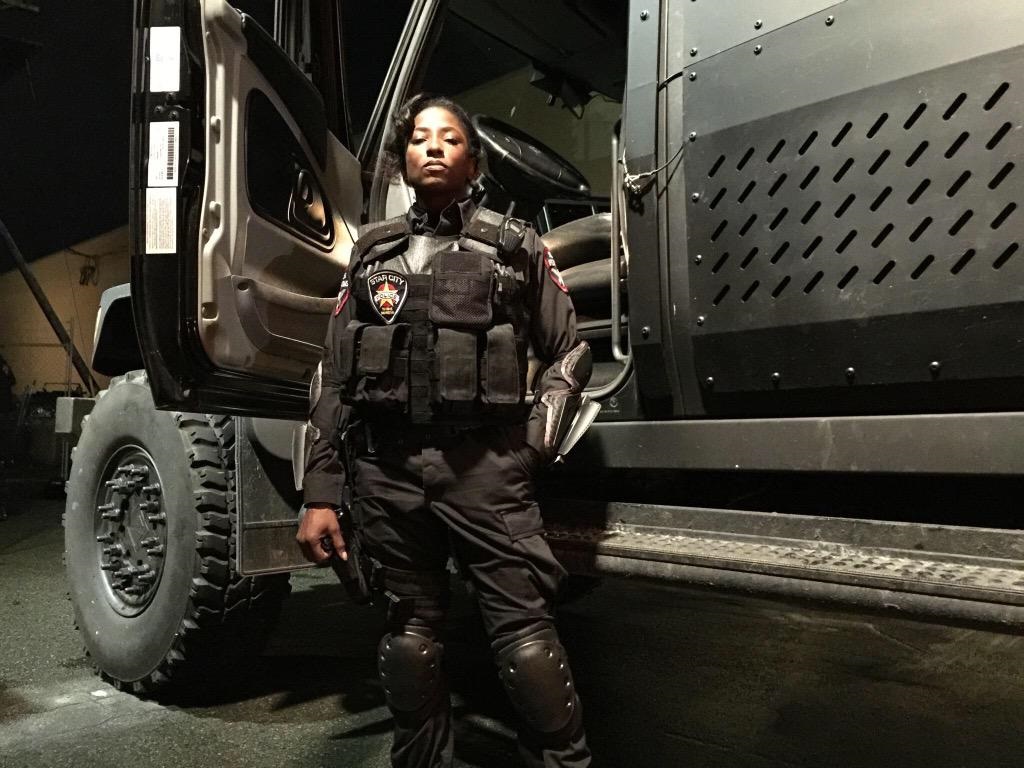 Last episode we were introduced to Liza Warner. While she had a 'seemingly' villain of the day episode arc lets not put her in that character profile just yet. With Ray's MIA status on the show comic book lovers will probably have been thrilled to see the emergence of an 'Atom Universe' character. Liza became a police officer in the comics (Earth One timeline) after being the only survivor of a "killer-in-boots" who murdered all of her college roommates. She has no special powers. Her natural abilities as a police officer, and her skills in trained self-defense are her tools to save the day. Could she have a bigger plotline this season? We will have to wait and see. She made some bad mistakes in her debut, but in the comics she is one of the good guys, and strives to keep Ivy Town safe, within the Atomverse. (You like the pun 😀 Atom Universe – Atomverse) Arrow writers are big on dropping Easter eggs and leaving us wondering. What do you think season 4 will have in store for Liza? Heres to hoping we see more of Rutina Wesley this season.
As we draw closer to episode 5's debut will Laurel finally have her redeeming moment? What will it take to bring back her sister's soul? As we've seen time and time again, every action has a price. Will Sara be returned whole, or could this be the Arrow team's ongoing issue this season?
Catch our discussion on last episode here:
Also because it was awesome! Here is fan-art by Lord Mesa and yes Cisco…it has purpose….SO MUCH PURPOSE ;p .
...