Get To Know Our Special Guest For Comikaze…All Year Long!
---
From a grassroots convention to a popculture breeding ground with some of the greatest names around, Stan Lee's Comikaze has taken off and won't be stopping anytime soon. Especially not since the con is a matter of weeks away (have any cosplayers started yet? I know I haven't……..). But it isn't just about the con; it's also about the all-new community honing monthly show! And we're kicking our second episode off without any hitch. Our upcoming guests have made a home within our heart and soul, and an impression that won't be going away any time soon. From voice actors, personalities, actresses, and comedians we can't wait to see:
Whether he's an imaginary virus fighting samurai scientist, Phil Lamarr's voice acting career is legendary. And I don't know about you, but I have a closet's worth of Samurai Jack, Darui (Naruto Shippuden), Ozzy & Drix, John Stweart, and Wilt paraphernalia that probably needs signing. As a guest of the show, we don't just hope that he'll reprise some of his infamous lines, but also hope that he'll tell us more about his career and future endeavors.
Bernie Bregman
An incredible host with an extremely boisterous personality, Bernie Bregman is known far and wide. The mastermind behind Nerds Like Us and Club Cosplay brands, it's amazing to think that his humble beginnings came from being a hype-man at Rocky Horror Picture Show.
Rileah Vanderbilt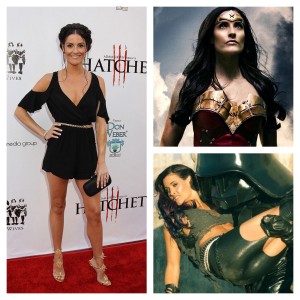 From the glamorous to the campy, the ever beautiful and hella ripped, Vanderbilt will be gracing our presence at Comikaze All-Year Long as well! We're excited to hear about all the new popculture shows upon other things that she's currently into. Maybe we'll get to find out if another Hatchet will be in the makes (Yes, I know it was cheesy. But I personally saw it as a very gory comedy. Don't hate.).
Jonathan Mangum
Last but never ever least, we have host, presenter, comedian, and more, Jonathan Mangum. We've had him tickle or throttle our funny bones with his lively personality. And it doesn't matter whether it's been from iCarly or Whose Line. Mangum, is sure to light the stage on fire (hopefully not literally) and set everyone ablaze with smiles (also not literally).
So be sure to check right back here at Comikaze All Year Long!!!!!
/back to midterms
Phil Lamar is best known as one of the original cast members of "Mad TV" and as "Marvin" in PULP FICTION. In addition to numerous appearances in films like STEP BROTHERS, FREE ENTERPRISE and REAL STEEL, and TV shows such as "NYPD Blue," "Curb Your Enthusiasm," "Young & Hungry" and "Castle;" Phil has been profiled for his extensive voice-over work, which includes regular roles on the animated series "Futurama," "Samurai Jack," "Static Shock," and "Justice League," recurring roles on "King of The Hill" "Young Justice" and "STAR WARS: Rebels" as well as parts in video games like DARKSIDERS, MORTAL KOMBAT X and SHADOW OF MORDOR. Currently, Phil is starring in new episodes of Netflix's "Turbo F.A.S.T." the comedy podcast "Blackout Television" and appearing in "Family Guy," "Teenage Mutant Ninja Turtles," "Marvel's Avengers Assemble" and "Ultimate Spider-Man."
Jonathan Mangum began performing in Orlando, FL with the SAK Theatre, a local improv show, while in college. He performed improv 13 shows each week and began to work with a tight-knit group of improvisers that included Wayne Brady. Soon after, Mangum moved to Los Angeles. His television credits include "The Wayne Brady Show," "The Drew Carey Show" and "Drew Carey's Greenscreen Show." He made appearances on "Reno 911," "Pushing Daisies," "NCIS" , "The Sarah Silverman Program", and is recurring on the new "Whose Line is it, Anyway." After two seasons working with Drew Carey on "The Drew Carey Show," he was invited to join the "Drew Carey Improv All-Stars." The group went on to tour in over 60 venues, including Carnegie Hall. He also has been touring internationally with Wayne Brady performing improv since the year 2000.
His feature film credits include an appearance with Jack Nicholson in "The Bucket List" and with Eddie Murphy in "Imagine That."
Mangum's writing credits include "The Wayne Brady Show" and the "Brandon T. Jackson Show" and the "BET Honors" He co-wrote and starred in "Home Purchasing Club" as well the short film "Conversations." He wrote an animated pilot, "The Lumberjacksons," for the Disney Channel and just released a web series entilted "Open Carrie" which he created with NBC's "the Office " Exec producer, Aaron Shure. Born in Charleston, S.C., Mangum grew up in Mobile, Alabama. His birthday is January 16. He is married to Leah Mangum, a writer, actor, and casting director. They have two children together.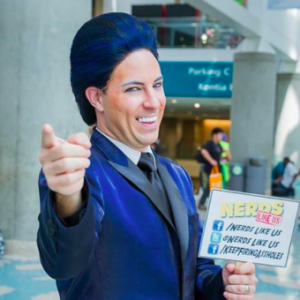 Bernie Bregman is one of the best contest/masquerade hosts on the cosplay circuit with over a decade of experience and several elite-level shows under his belt. Getting his start as a hype-man for Rocky Horror he's got a quick wit and ability to ensure the show maintains a fast pace. The man behind the Nerds Like Us and Club Cosplay brands, he is known for his alter-egos the flamboyant Caesar Flickerman from The Hunger Games or the hysterical Dark Helmet from Spaceballs and he never fails to entertain the crowd.
Check out Nerds Like Us and Club Cosplay on Facebook: Cosplaynightclub and NerdsLikeUs.
Rileah Vanderbilt landed her first on-camera role in Hatchet in 2005. She has co-starred with Joel David Moore from Avatar in 2006s Spiral, and Shawn Ashmore and Kevin Zegers in the 2010 Official Sundance Film Festival selection, Frozen.
You can find her wielding a light saber against Grant again in Saber 2: The Body Wash Strikes Back in which they teamed up with Chris Hardwick's company Nerdist.
Vanderbilt also co-created and starred in the Team Unicorn web hits G33k & G4M3R Girls, A Very Zombie Holiday, superHarmony, Alien Beach Crashers, and For The Win.
...