Is Arrow's midseason finale telling us Felicity is in the grave?
---
Some people think that Felicity is a goner and Wednesday's midseason finale is when she's bitting the dust… I disagree.
We do know that someone will die before the season is done and it will be devastating to Oliver and we also know the Felicity's life is in danger in the fall finale but do we really think Felicity is the one in the grave?
If you missed the super stressful tease for this week's episode…go watch it now.
Oliver is forced to watch as Felicity is dragged towards a clear glass chamber, with some sort of gas flowing in.
Here are some reasons I don't think Felicity is in the grave:
First of all, the grave timeline doesnt fit. In the flash forward, the grave scene was "six months" away from the season premiere and it hasn't been six months (in real time) yet.
"Arrow" executive producer Wendy Mericle spoke to TV Line about a month ago saying that there would be additional flash forwards "right around midseason" that will add to the grave mystery, adding: "If we do decide to do that, it will reveal even more pertinent information about not who's going to be in the grave but certainly where our characters are when that [death] happens."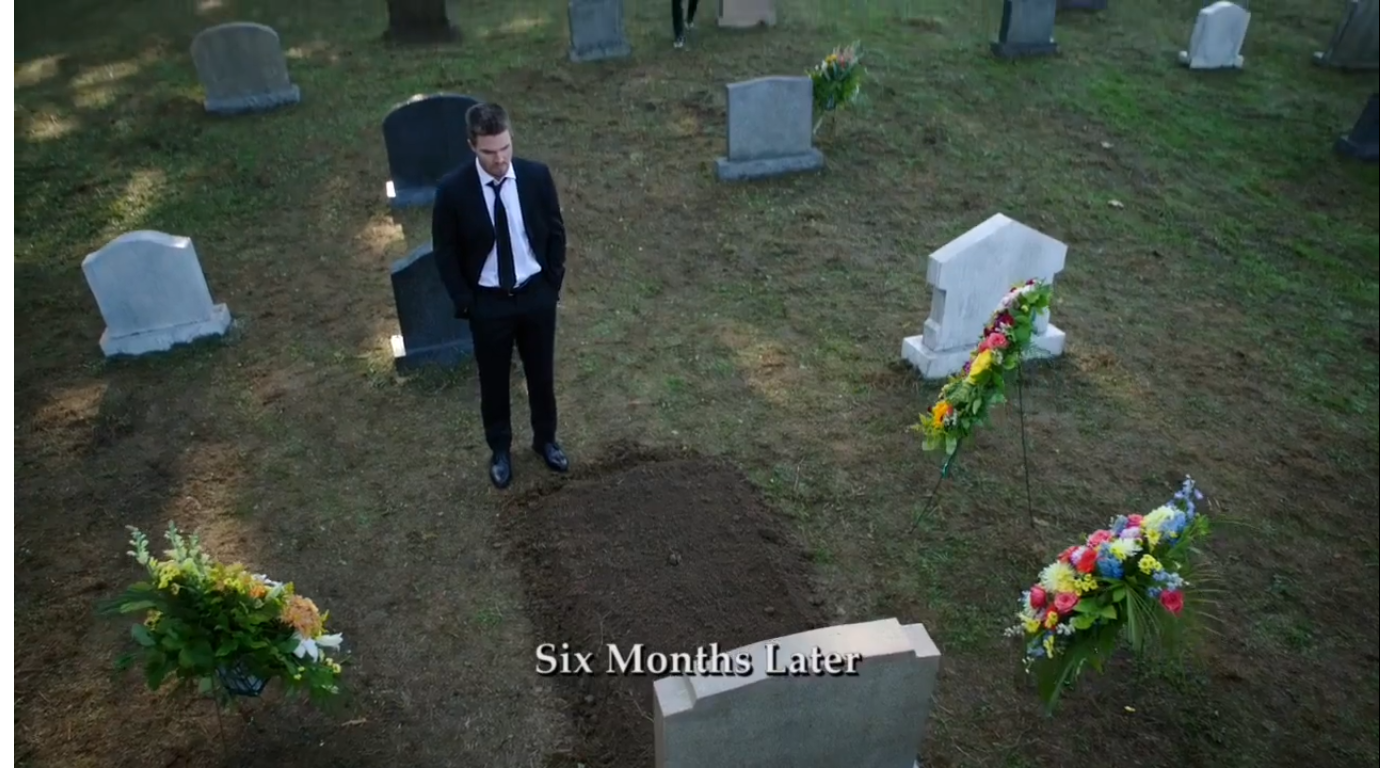 Secondly, it would be a bit obvious…
There's only so much a promo will spoil right? I highly doubt that the Arrow writing team would spoil such a crazy plot twist.
In the season premiere Arrow writers went out of their way visually to hint that Felicity was in the grave by going straight from a shot of her engagement ring to a shot of Ollie at the grave six months later. It feels like they are trying to make us think its Felicity so that we are "shocked" when its not.
Here's what Emily Bett told TV Line about whos in the grave: "As castmates, we're all like, 'Is it you?! Is it you?! Oh, it could be you!" she describes. "'No, you know what, it's definitely me. It has to be me! It's has to be you! It has to be me! It's going to be them! It's going to be no one! No one's in the grave!' Like, that conversation happens daily," she adds.
Honestly, she's one of the show's most popular characters and killing her off, while a bold move, would be a bizarre one. Team Arrow needs the brains of the operation and there's too much love for Felicity out there.
What are your thoughts for who's in the grave? (I think it's Samantha)
Check out last week's Arrow/Flash Aftershow crossover and tune in on Wednesday for our mid-season finale Arrow Aftershow!
...