It was like a therapy session for us on Inside Horror last night, for Feb 14. Jenna said she "hates Valentine's Day!" while Elric and I counted down our favorite top 5 dysfunctional couples in horror movies — then it was Dreadlines time, during which we discussed the new female Ash cast in the Evil Dead remake (yes, that story again! Like the zombies in the flick, it just won't die) as well as some other interesting headlines. The genre sure is a juggernaut these days; we love it! (But not Valentine's Day.)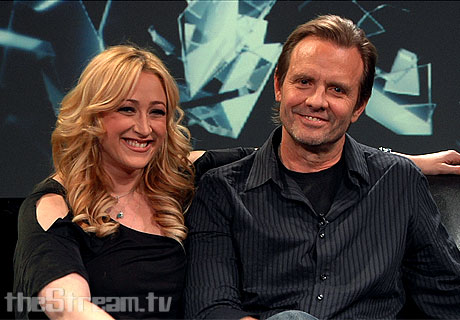 In honor of the occasion, we had marrieds Michael Biehn and Jennifer Blanc-Biehn as our guests, and it was awesome (as you might expect — I mean, how cool is the chick who landed Terminator "Kyle Reese"?). They even got into a little tiff, live on the air: cute! Aside from discussing their professional partnership as actors and producers in recent genre films like The Divide and The Victim, Elric and I got Michael to tell a few tattletales on some of the great auteurs he's had the honor of working with (William Friedkin, Robert Rodriguez, James Cameron to name just a few — you've gotta click play to hear the
stories… pretty candid stuff).
Tune in to Inside Horror next week (Tuesday, February 21 at 7 p.m. PST, 10 p.m. EST) when we'll have a special surprise guest in honor of Women In Horror Month.