Buddy Giovinazzo & THE THEATER BIZARRE Controversy – Inside Horror
---
Buddy Giovinazzo visits INSIDE HORROR to talk about women's reactions to his segment in the film THE THEATER BIZARRE. Hosted by Elric Kane and Staci Layne Wilson.
THE THEATER BIZARRE is a 2011 horror anthology film. The six segments are directed by Douglas Buck, Buddy Giovinazzo, David Gregory, Karim Hussain, Tom Savini and Richard Stanley. The film contain six stories, each inspired by Paris' legendary Grand Guignol theatre.
Buddy Giovinazzo is an independent filmmaker and author who is known for his gritty-low budget debut film, COMBAT SHOCK, and his collection of harrowing short stories of low urban life in his 1993 novel, "Life is Hot in Cracktown."
For full episode: http://thestream.tv/?p=8094
Visit thestream.tv/inside-horror for more information, and for additional perspectives follow the team on Twitter at @InsideHorror and Facebook at facebook.com/InsideHorror.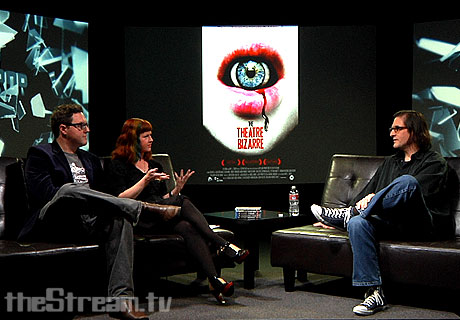 ...