Is The Flash Really the Fastest Man Alive?
---
Every episode of The Flash begins with a voice-over from star Grant Gustin that informs viewers that he is Barry Allen and boldly states, "And I am the fastest man alive." One problem: Now more than ever, that's proven to not be the case.
After this week's new episode of The Flash, it's not even fair to say that Barry is the fastest person alive. Newcomer Trajectory managed to very quickly show that she was faster than the Flash, easily zipping away from him several times on the streets of Central City and moving so quickly when she paid a visit to S.T.A.R. Labs that she was able to usher him into a cell in the Pipeline without him putting up any kind of a fight.
It was, as The Flash After Show host Jack Hind said in this week's latest episode, "as if Barry had been out of superhero practice for the last three weeks." And clearly, that Velocity 9 is good stuff — when it's not killing you.
The Third-Fastest Man Alive?
That's not really as catchy a hook for Barry to use each week, granted. Unfortunately, there's some truth to it, as both Reverse-Flash in Season 1 and Zoom in Season 2 have been presented as being notably faster than the Flash, men who he'd have to train and increase his mastery of his powers to have any hope of defeating.
By the end of "Trajectory," thanks to the canyon jump training and a healthy pep talk from the other members of Team Flash, Barry was able to accelerate to Mach 3.3 very briefly in order to leap the destroyed bridge and more or less land on the villain. I'm no math whiz, but I'm pretty sure that's a tad over 2500 miles per hour.
Impressive, right? But still not quite sufficient, which is why Barry briefly considered the superhero equivalent of performance-enhancing drugs to give himself an extra boost.
Cheat to Win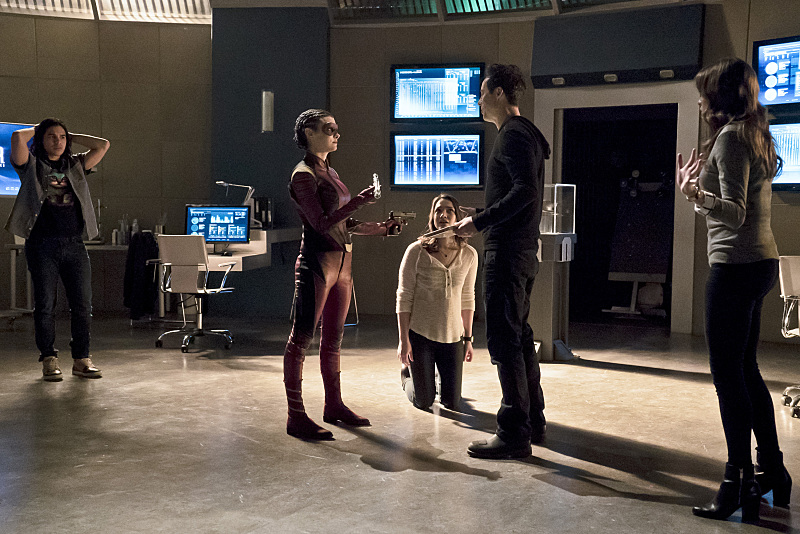 Because of the fact that he's not up to par in the raw speed department, Barry had a real struggle over whether or not to use the Velocity 9 himself. This was also noted by The Flash After Show hosts, with Jack somewhat bewildered that the Flash would even think about "cheating," or taking a shortcut, as Harry Wells tells him in the episode.
Devon was a little more sympathetic:
I can see why he wants to use the Velocity 9. You gotta think, every new mini-villain that comes in is in some way or form faster than him.
He also pointed out that even the Mist and Peek-a-Boo, not even speed-based villains, were threats that the Flash couldn't seem to outrun. Barry has learned to do a lot more things with his powers than just run fast, including vibrating through solid objects and gathering the lightning he leaves in his wake to use as an offensive weapon. In terms of pure speed, though, the writers of The Flash seem content to make sure he can't just sprint his way through his problems.
Not Fast in Real Life Either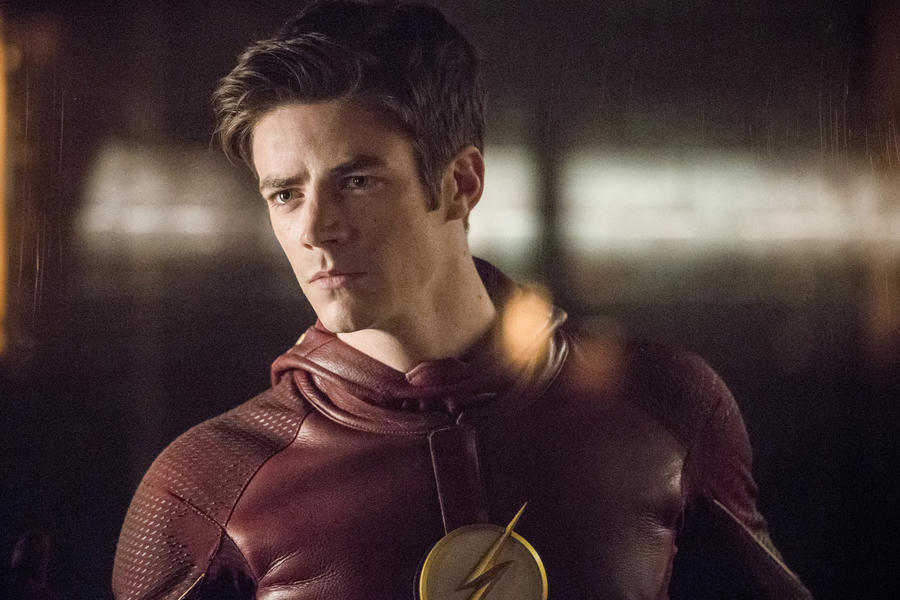 Lest we fans think that Gustin might at least be the Fastest Man Alive in real life, there was also some bubble-bursting to be done on The Flash After Show this week. Special guest Michael Benyaer, veteran actor and voice talent, dished on what Gustin is like on set:
He's not really fast in real life. He walks normal speed.
So who among The Flash cast would win in a race, presuming no Velocity 9 was allowed? Jack said his money was on Carlos Valdes, who plays Cisco Ramon.
He's going to tie his hair in a ponytail, put his sneakers on, and boom, Carlos is gone.
Carolina Bonetti also added that "Cisco runs the show. There's no Flash without Cisco." So consider that two strong votes for someone other than the man who plays the Flash in a race.
Be sure to watch the entire episode of The Flash After Show for more with Benyaer, discussion about what the future might hold for Jesse Wells and Wally West, and much, much more.
Do you think the Flash gradually becoming faster while up against speedier foes is the way to go? Or should he truly be the Fastest Man Alive? Be sure to leave a comment below with your thoughts or let Jack, Devon, Carolina and the vacationing Adam Kruger (Hawaii must be nice this time of year!) know your opinion by using the hashtag #TheFlashAS on social media.
Don't forget to follow us on Twitter @theStreamtv and The Flash After Show hosts:
Adam Kruger – @TheAdamKruger
Devon Stewart – @DevonDStewart
Jack Hind – @JackHind
Carolina Bonetti – @CarolinaBonetti
theStream.tv Fan Show Network presents The Flash After Show. Tune in each week, live or on demand, for review and conversation about CW's The Flash! At the helm of the show are writers & producers Greg Berlanti, Andrew Kreisberg, and DC Comics CCO Geoff Johns who help bring this DC Superhero to life. The series is produced by CW and is a spinoff of their popular DC Superhero show, Arrow. The Flash, tells the story of Barry Allen after witnessing his mother's strange murder and his father's wrongful conviction for the crime. Allen becomes a brilliant but socially awkward crime scene investigator for the Central City Police Department. After being struck by lightning from a storm and doused with chemicals in his lab, he enters a nine-month coma, and when he wakes up he discovers he has the ability to move at superhuman speeds. Harrison Wells, the disgraced designer of the failed accelerator which caused the storm, describes Barry's special nature as "metahuman". Allen soon discovers that he is not the only one changed by the radiation, vowing to use his gifts to protect Central City from the escalating violence of metahuman criminals. In the series, The Flash will face metahumans from the DC universe including Weather Wizard, Multiplex, The Mist, Captain Cold, The General, Girder, and Blackout. Barry Allen is aided by a few close friends and associates who guard his secrets.
If you're a fan of the DC and the show then tune in each week for the live after show. #TheFlashAS
SUBSCRIBE TO theStream.tv
http://www.youtube.com/subscription_center?add_user=thestreamtv
LIKE US ON FACEBOOK
http://www.thestream.tv/facebook
FOLLOW US ON TWITTER
Tweets by thestreamtv
FOLLOW US ON INSTAGRAM
https://instagram.com/thestreamtv/
...